Delivery Options and Prices
General Delivery Information
Unlike many other online wine retailers, we don't have a minimum order value. We offer local delivery, delivery by courier or free collection! We prefer to charge fair and realistic prices for delivery as opposed to claiming to offer "free delivery" as we all know that there is no such thing as a "free lunch" anymore than there is "free delivery"! The costs are simply added on to the price of the wine which then penalises everyone!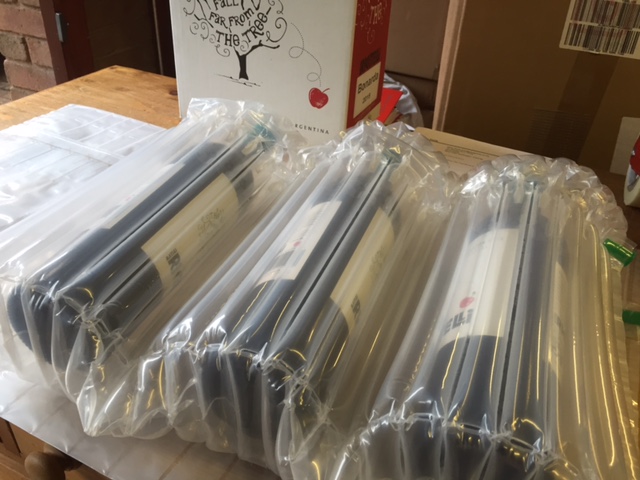 Wine being both heavy and breakable attracts high delivery costs from couriers and the packaging required has to be very robust and therefore expensive. We use top of the range Air Sac packaging in order to ensure that your wine arrives safely We make no money on our delivery prices but are content just to cover our costs
Orders can be for a single bottle or multiple bottles and cases of wine can be mixed however you like. We promise to deliver all orders within 8 working days, however it is more usual for orders to arrive within 5 working days.
Local Delivery
We offer delivery to the following post codes for just £6.00
CV1- 8
CV10-12
CV21-23
CV31-37
CV47
B90-98
OX15-17

NN11

GL55-56
UK Mainland
For delivery to any other UK mainland address, we use couriers and have to charge £9.95 for a consignment of up to 12 bottles. For 13 -24 bottles the charge is £14.95 and 25 - 48 bottles it is £19.95. For delivery charges for 49 bottles or more please contact us by emailing info@winepoole.co.uk
Scottish Highlands and Islands, Isle of Wight
If you live in the following postcode areas, you'll need to select the 'Scottish Highlands and Islands' shipping method and the cost is £22.50 per consignment.
AB37 - AB51
JE
DD
KW
GY
KY
HS
PA
PO
IM
PH
IV
ZE
Northern Ireland
If you live in a BT postcode, please select the Northern Ireland shipping option and the cost is £24.00 per 12 bottles.
Southern Ireland
Please select the Southern Ireland shipping option and the cost is £36.00 per 12 bottles.
Isle of Man,
If you live in an IM, postcode area, please select the Isle of Man, shipping option and the cost for up to 24 bottles is £45.00.